Another First from Odisha: Reviving Past Glory Of 'Tarakasi' With Silver Linings
Bhubaneswar: From the earliest civilizations to the ancient times, 'filigree' is a long-lost form of art. Most striking for its brilliance, delicate detailing and fine craftsmanship. Its distinctive process involves a peculiar technique that has attracted the fancy of millions since thousands of years.
Tiny beads and twisted threads come together to form delicate patterns. The hands of master craftsmen neatly weave fine silver wires into spirals, curls and jaals. Once a drop of molten silver, piece by piece, laboriously and patiently, elegant designs take shape.
As we talk, this ancient art form is battling for its survival in the hands of a few craftsmen families in Cuttack, Odisha. The number of families practising this art is decreasing with time, and why not? They have their reasons!!! With them at the back-end of this value chain, they saw no one leading from the front.
The art has been surviving through the existing reach and relationships of these artists and few merchants. Strictly speaking their reach is very limited.
Clearly, the industry's inability to enhance awareness and create access models are becoming key obstacles in getting its lost glory back.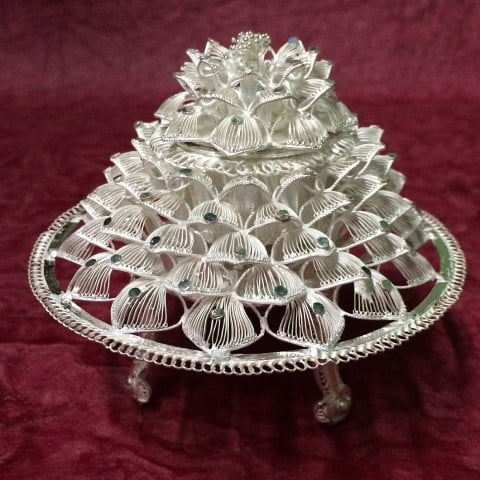 But…
All hopes not lost yet!
Love for the art…intent to do something for their home state…staying connected to the roots…
These are the reasons why Nisha Agrawal from Cuttack and Ashish Pati from Bhubaneswar came together with a purpose to revive the art and to ensure the soul of this art is truly expressed and its worth appreciated.
Little over a year back, they created India's first online platform dedicated to the Cuttack-based art of filigree. They called it 'Silver Linings'. Though the art is very old in Odisha, Silver Linings has opened a new chapter, for all to remember and cherish.
As you can see in www.silverlinings.in, no other brand imbues with such elegance this century-old legacy of filigree, the way it does. Working along with craftsmen, they ensure the soul of this art reach many more than what it used to.
As rightly put by Ashish and Nisha from Silver Linings: "Art shouldn't be something so precious that you only place it on a shelf. Nor should design be so far-fetched from our culture, that we're unable to adorn it. Hence, we use this art to create wearable jewellery for women across age groups and for every occasion."
Since its inception (little over a year), Silver Linings has received over 50,000 unique visitors from across the globe. There was not a single buyer who did not fall in love with the art. All these have inspired this team to do more.
Journey that just began
Silver Linings ensures that each carefully-crafted piece exudes precision and beauty, bearing the hallmark of excellence in art and Cuttack-based craftsmanship.
Nisha from Silver Linings is very driven and at the same time proud to have contributed her bit back to her state and her hometown. She is really hopeful that the people of Odisha will take a note of this effort and will support them.
The purpose, the results of their hard-work and the customer feedback have inspired the Silver Linings team to do more now in terms of reaching out to connoisseurs from other countries, trying to bring like-minded people and institutions to contribute to the art, and more.
And finally making 'Silver Linings' a loved jewelry brand that stands for the cause of revival of our own 'Tarakasi'.
Contact: Ashish@silverlinings.in, Nisha@silverlinings.in
[This is a sponsored post]