'Desh Dosti Etc' Heats Up Election Season
Pune/Bhubaneswar: It's election season. From WhatsApp groups to Facebook pages, there are endless debates on which party or candidate is better and why. Which party will get a majority and whatnot. Amid the chaos, comes a surprise from award-winning film production studio "BnR Films".
This time, it's a Hindi short film titled Desh Dosti Etc, which was released on YouTube as well as on a Facebook page on Wednesday, strategically just a day before April 11, the first phase of elections.
This is perhaps the first such short film dedicated to the 2019 elections, said film director Biswanath Rath.
Award-winning filmmaker Biswanath has written, shot, edited and directed this short film, which is produced by BnR Films (Founded by Biswanath and Archana Rath). According to Biswanath, the film's genre is "Drama".
It features Ashish Kumar, Sonal Khare, Eswari Murty, Sumat and Udit Tuteja.
Sampad Maity has assisted in direction and equipment. Music has been composed by Mumbai-based music director Rohhan Patel. Graphics design and title animation have been carried out by Asmita Bal and Arun Swain respectively.
"The climate has become too hot, not because summer has arrived. This year, the reason is different. It's election time. After all, the world's largest democracy is preparing itself for elections that will decide who will rule for the next five years," said Biswanath. "This election is even more special since almost every single soul (who has a social media presence) in our generation thinks he/she has a PhD in politics. But then, amid all the hot and never-ending political debates, there is a different kind of war raging on social media, where the loss is irreparable. The war that has cost millions of friendships. Are these wars worth the loss? That's how the idea of our short film Desh Dosti Etc took shape."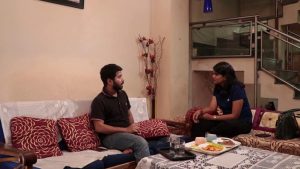 He also said: "We are humbled to receive awe-inspiring response from social media audiences, who are appreciating the message, presentation, theme and release timing. Although primarily meant for social media, like our other award-wining short films, we also aspire to submit the film to the international film festival circuit."
"We made the film in just three weeks. The response to this film will go a long way in motivating us to come up with even better short films," said Biswanath.
About the shooting, Biswanath said: "This time we had many funny moments on the sets. Usually we do rehearsal before shooting films. But for this film we had less time, as we wanted to finish it before the elections. We have made this movie without any rehearsal."
Biswanath Rath is the founder and CEO of BnR Films LLP, a film production company (co-founded by his wife Archana Rath), which produces ad-films, TV commercials, corporate videos, music videos, documentaries, promotional films, short films and feature films. All the ad-films/short films/music videos produced by the company (written-directed by Biswanath) have received 164 awards and recognitions in the international film festival circuit.
Recently, Biswanath's international documentary Kotpad Weaving: The Story of a Race Against Time received two awards, one in Kashmir, the other in USA.
His first short film, Kar Bhalaa, has garnered a total of 41 international film festival nominations and three awards.