Are rising electricity bills and pollution levels affecting you? If yes, you can start by changing your lights at home to LEDs (Light Emitting Diodes). LEDs last longer and consume lesser power than fluorescent and incandescent ones. 9W LED bulbs are a direct replacement for CFLs and incandescent bulbs. The 20W LED tubes are 4 feet long, just like the old 36/40W tube lights and those come with complete fittings.
How Much Will I Save?
A 9W LED bulb produces the same light (lumens) as a 15W CFL (Compact Fluorescent Light) and about the same as a traditional 75W incandescent bulb. This equates to around 30-40% lesser electricity bills compared to CFLs. The savings are massive when compared to older bulbs. Not only lower power consumption but LEDs also last much longer than other types of lights. Philips and other major manufacturers rate their LED bulb lifespan onwards of 25000 hours, while CFLs last only around 6000 hours. This means you have to buy lesser bulbs and also save time to replace them. At 5-10 hours usage a day, a LED bulb can last around 7-14 years.
Aren't LEDs Expensive?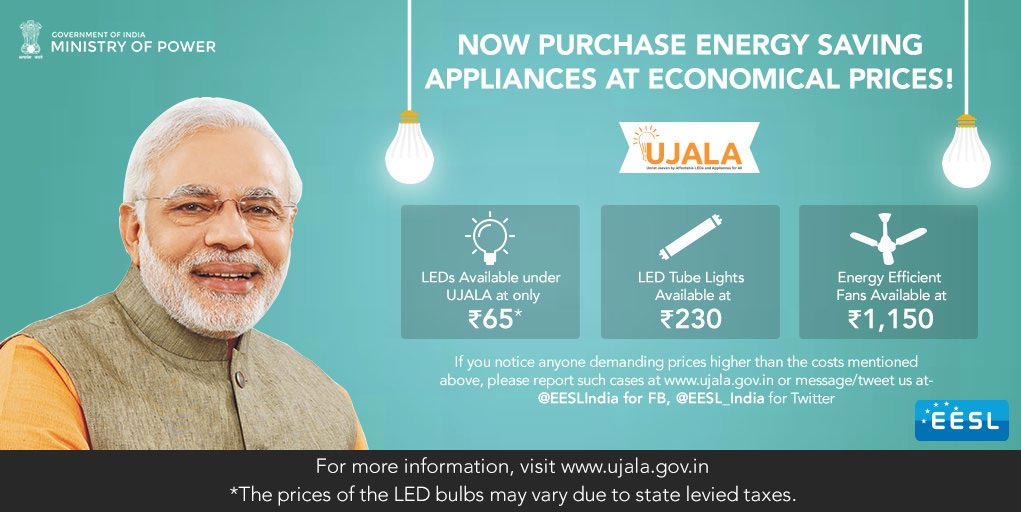 This is where the Government's UJALA (Unnat Jeevan by Affordable LED and Appliances for All) scheme comes in. LEDs have been traditionally more expensive than other lights. Under this scheme, a 9W LED bulb is available for just ₹ 70 and 20W LED tube costs ₹ 230. These come with a replacement warranty of 3 years and are available at your nearest electricity bill payment centres.
Over 26 crore LEDs have been distributed, according to live counter on the UJALA website. According to the same, this equates to over 34 million kWh of energy saved per year, ₹ 13,745 crores of money saved annually, 6,879 MW of peak electricity demand avoided and 2,78,32,729 tonnes of CO2 reduction per year. Some estimates state the energy saved is equivalent to what would have been produced by four 1000MW thermal power plants. Managing Director of Energy Efficiency Services Limited (EESL) Saurabh Kumar reportedly says, "It is simple. It makes investments work for you."
How Good Is It For The Environment?
Apart from saving tons of carbon dioxide emissions by cutting down on energy consumption, LED lights have no mercury, unlike fluorescent tubes. Also, the longer life means less waste gets into landfills. LEDs are also more efficient as they produce light in a single direction, unlike fluorescent lights which are omnidirectional. Hence light produced at the back of the tube is lost or minimised in the case of fluorescent ones, while LED tubes produce light at the front side only.
Switch to LEDs today to save power and the planet too.