Paint Your Roof White, Bring The Mercury Down
Bhubaneswar: More and more people across the country are painting their roofs white in what looks like the best way to escape the unapologetic summer heat.
"We have been painting our roofs every year for the last 10 years and the difference can be felt right away – our top floor feels as cool as the ground floor. It has helped us cut down on electricity bills as well," said Kalpana Mishra, a retired lecturer living in Cuttack.
"It is a huge relief and on some days we can even do without AC," says Kritika Behera, a Bhubaneswar resident who has been painting her roof white for three years now.
How does it work?
This age-old technique relies on the simple principle that darker colours absorb more light and heat, while lighter colours reflect it away. White being the lightest colour, reflects up to 90 per cent of sunlight (as opposed to traditional black roofs which reflect only 20 per cent of sunlight) according to whiteroofproject.org and keeps interiors cooler by around 7-15 degrees Celcius.
Great for the environment?
A hot roof (grey or black) also radiates heat in the evening. By painting the roof white, we can prevent this heat from heating up the city too, something termed as "urban heat island effect". According to Lawrence Berkeley National Laboratory in Berkeley, "White roofs cool the world, offset CO2, and delay global warming" by reflecting the heat back to space. It also reduces air conditioning bills by 20 per cent. A research at the Swiss Federal Institute of Technology (ETH) in Zurich said that painting every roof and surface white can help reduce overall temperatures of cities by 2-3 degrees Celsius. The city of Los Angeles painted its roads white to reduce the urban heat island effect.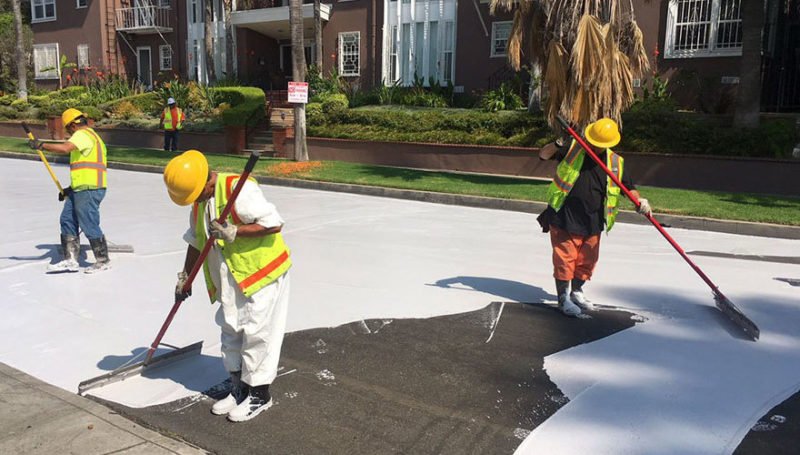 White roof options:
Slaked Lime or choona (Lasts a season)
Slaked Lime mixed with adhesive (usually Fevicol) is the cheapest solution. It is very effective in keeping the heat away but it doesn't last when it rains heavily.
2. White cement paint (Lasts a year)
This is also affordable but lasts longer than slaked lime. It needs to be reapplied every year, but usually requires a single coat in subsequent years. This usually costs around Rs 2,000-3,000 for a 1,200 sqft roof.
3. Elastomeric Paints (Lasts over 7 years)
If you can afford and don't want to reapply every year, elastomeric paints such as Dr. Fixit Newcoat, Asian Paints Damp Proof, Xcel Coatings Roof Paint, etc are the best solution for you. This paint can last around 5 years and will also water-proof your roof, helping increase its life span. Some companies like Asian Paints give a 5-year warranty for their elastormeric roof paint, which costs Rs 30 per sqft, including labour charges. Elastomeric paints cost 5-7 times what cement paint does.
4. Ceramic Tiles (Lasts almost a lifetime)
Putting white ceramic floor tiles on the roof is one permanent solution. Make sure to install vitrified double charged tiles with proper grouting, or else the tiles can break due to expansion and water absorption. Glazed tiles with high reflective index work better. Tiles can make your roof water resistant and increase life span as well as make it more useful.
Cost: Rs 70 per sqft (starting price).

5. Green Roof
Growing grass and plants on your rooftop can also help reduce the heat as well as generate fresh oxygen. But make sure your roof structure can withstand the load and also waterproof your terrace properly before implementing.