Only Amitabh Bachchan could make 'first day, first show' an ego issue for all of us—my friends, peers and ilk. We had to have the tickets for the show, be it purchased from the counter or 'second hand'. If we were seen jostling in the crowd and returning ticket-less, my group would feel powerless, hopeless and influence-less. Finished.
But it was different inside the movie hall. The moment he exploded on the screen riding a bike and singing "Rotey huye aate hain sab", the hall erupted like a suppressed hydraulic getting an outlet. You had to react. You had to shout, whistle, throw coins at the screen even when most of the crowd must be still exploring their seats in the dark hall and blocking your view of the screen.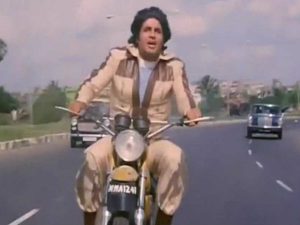 Mr Bachchan took adrenalin to a different level when he called out for Zohra Bai in a drunken state or wept playing a robin hood, speaking in melancholy "Ek bhai agar doosre bhai ka pet bharta hai…" (in 'Muqudar ka Sikandar'). Either with his eyes penetrating you with his rebellion in Deewar or amazing you with his invincibility in Don or striking your heart with his indurate gangster-style in Agneepath, he has always been with you, there.
He has been with you and yet he has never been in the movie. At any point before or after the 'interval', you could not separate the movie from Amitabh Bachchan, the name that sent tremors in box office. 'Salaamey ishq meri jaan' couldn't have been so romantic without the iconic sway of a drunk Sikandar. When he saw 'memsahib' at his place, he fumbled with his cigarette, looked painfully disturbed and lost somewhere, beyond his living room.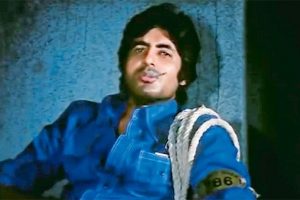 It couldn't have been only Prakash Mehra's deft direction that gave this modern Devdas to Indian audiences. I consider 'Muqadar ka Sikandar' as one of the best blockbuster adaptations of Devdas. It has to be an acting dipped in hardcore existentialism and yet drifting in intangible dreams. He was Sikandar, not Amitabh.
But in the same vein, amidst blockbusters, one could completely and clearly separate him for his acting. Many of his movies were utter nonsense, but you still remember his scenes. That's the charisma of his swinging back and forth from the story, the scene and being Amitabh Bachchan.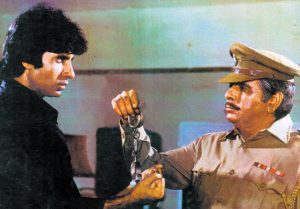 My father once told me that the uniqueness of Bachchan was that he was different in every frame—irrespective of the theme, the sequence or the action, his presentation has always been "fresh"' in every shot. Such repertoire is rare in world cinema. His anger, his happiness, his flirtation all had many hues. This could be because of his study and discipline which is legendary, but could be largely attributed to his cultural moorings too.
Besides poetry, I have heard that he loves playing the sitar. Whatever he plays, he completely immerses himself and you can see that in his body language, immaculate diction and heart stopping dialogue delivery. The new age TV got a taste of his presentation in the iconic 'Kaun Banega Coredpati' show. He talks to you in a way you would dream to talk. He is a magician who takes you on a flight of fantasy—so when you come out after he dies in 'Deewar', the scene of his last fall at the temple stays with you. All these years, with our daily grind of life, it has refused to fade. You don't decide that he was wrong in what he did to earn quick money unscrupulously and beat the villains in their own game. It was because whatever he did on screen was 'possible'.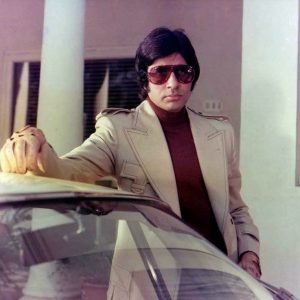 He was not acting, he was him—Vijay Dinanath Chauhan. I spent time with Vijay on mouth organ in Sholay and with Amit and Chandni humming 'Ye kahan aa gaye hum'. It was not Amitabh, but the characters he played. He could be anything, do anything and say anything, the screen was his and you were with him on a journey. After watching his movies, Gautam, Kaustubh, Raja and many of my dear friends would relive the scenes, repeat the dialogues and recount his acting bit by bit.
He has been steadfastly with you, as he has been the colossus in Indian life since half a century. Can we limit him to only films and entertainment? I won't because he has and continues to touch the psyche, the style and the thinking of people. He has given a new pedestal to entertainment industry—one where discipline, aesthetics, sophistication and humility can mean success are not unwanted, as is perceived.
He has matched many times his idol, Balraj Sahni. In 'Shakti[, he walked with Smita Patil from the station and she asked him about his work. He replied, "Kaam doondhna bhi kaam hota hai" and the rebel in me was left awestruck. I have watched that scene at least 60 times. The sheer plain-speak (easy speak) was a big break, away from melodramatic (and often removed) style of dialogue delivery. He was there: Vijay was there when he spoke to Roma. That's Mr Bachchan—greatness with us.
First Day First Show is ONLY for Mr Amitabh Bachchan, Vijay. Even today I have to get the tickets, 'First Day, First Show'. Because goosebumps are special.
(The writer is a columnist based in New Delhi. The views are personal)