Liu Kuo Yung would not stop gushing about the India-Pakistan Cricket World Cup match a day after the Men in Blue's triumph at Old Trafford in Engalnd.
"This was not like any other India-Pakistan match, mind you," he says. "There were people here last night who focused more on their food than on the live match on television. This has never happened before. India won yesterday, but it lacked the thrill that comes from defeating Pakistan."
Liu had been on Twitter all morning. "There's a video showing Shoaib Malik going out for dinner with his wife Sania at 2 am, just some hours ahead of the match. I'd once read that Imran Khan had stopped a player from having pizza before a match. No wonder this team just collapsed. Shoaib can't deny it now. There is CCTV footage showing him go out. These days every little thing you do gets recorded somewhere and then it is all over the place."
And yet, he says, he has been receiving mails lately, marked 'Urgent', "or maybe it was Confidential", from Google Map, asking him if his restaurant, New Hong Kong, still exists. He replied in the affirmative every time but the mails have not stopped coming. "Funny thing this internet is sometimes," he says. "We are very much in business."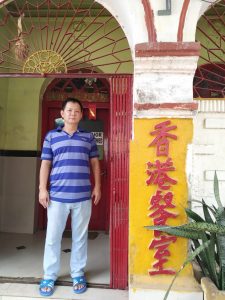 Once upon a time, Cuttack had three Chinese restaurants, all run by natives from China. There was Waldorf on Pension Lane, Nanking on Mahatab Road and Hong Kong in Bepari Sahi near Buxi Bazar. The families that ran Waldorf and Nanking left Cuttack long ago for, perhaps, greener pastures. Nanking still exists, being now run by Indians. That leaves New Hong Kong, in its new avatar, as the only restaurant run by a Chinese family in Cuttack.
It's owner, Liu, is the grandson of Liu Pe Gye, who migrated from Canton province of China "a long time ago, am not aware of the exact year", to escape the Communists. "There was a lot of fighting going on between the Communists and non-Communists those days," Liu says. "People were forever migrating to bordering countries."
His grandfather came to Calcutta and set up a tannery at Tangra. "He was among the richest people of Chinese origin in Calcutta those days." Liu said. Sometime in 1960, he came to Cuttack and set up Hong Kong, a restaurant, which he left in the charge of his son,
Liu Lai Hsiang, while himself returning to Calcutta.
Some time later, Pe Gye returned again, with Que Pak, "a well-educated man he found sleeping on the streets of Calcutta". Que Pak was jobless, but Pe Gye saw hope in him and brought him to help his son run the restaurant.
"He was not my father's own brother, but we called him Uncle and he was no less than that. We respected him a lot. He was very handsome. Everybody called him 'Major'. Ministers, bureaucrats, whoever came here, they all addressed him as Major. Hardly anybody addressed him by his actual name," reveals Liu.
Liu has a brother who is an engineer based in Mumbai. He himself is a BCom from Ravenshaw College, but chose to run the restaurant. His wife, Lo Shiu Liang, helps him run the place. "Chalaana hai," he says in Hindi. "In fact, I had received offers from Hyderabad and Mumbai to set up restaurants, but I chose to stay on."
In the good old days, he said, sons continued what the father started. Now it is all changing. "I don't think my children will want to run this place, but I want to save this legacy. This is one place where you will get genuine Chinese food in Cuttack."
How different is their food from, say, that served by their competitors, albeit of Indian origin. "No, there are no competitors. We don't believe in competition," says Liu. "But there are things that you cannot find elsewhere, like, say, the vinegar we use. My mother was very particular about it." He informs that their house always had bottles full of radish, cabbage, cauliflower and garlic dipped in various potions made at home. All these go towards enhancing taste. "Where will you get these in the other restaurants?"
Asked about how food in China is very different from what passes for Chinese in India, he replies that's just the tip of the iceberg. "Food is very different among the Chinese too. One day, an immigrant friend of Chinese origin but from a different province came to my house and on seeing all those bottles asked me what was inside. I jokingly told him it was a pickled rat. He cringed and launched into a tirade on how he was always being ridiculed for something he would never eat. He cooled down only after I made him open the bottle and check for himself. It was radish."
Has he himself ever felt like an outsider in India?  "No. It was there during my parents' time. There was a deep underlying fear, specially during the war. But now the younger generation thinks differently. Our original language was Mandarin, but what we speak now is called Hakka. Our parents were very particular about what we said and how we said it. They used to talk a lot about China. But we sometimes use Hindi or English when we can't find the Mandarin word for something. There is no one left to shout at us or correct us now."
No ties left with the Canton province they came from two generations ago?  "My mother used to visit some distant relatives there, but I have never been there," Liu says.
Returning to Chinese cuisine, he says that like the younger generation today,  Chinese food was always very flexible. "We can always tweak it according to the palate of the country it is being served in. What we eat ourselves is very different. But when we serve our guests, we make minor changes here and there. Take for instance our dish Fried Chicken with Chilli Hot. It was meant to be just the chicken and sauce. But our guests wanted onion and capsicum in it, loads of it. So we had to make changes. It is now called Chilli Chicken."
But he hastens to add that tastes are changing. While customers are developing a taste for authentic Chinese, their own children love a bit of masala in their food. In fact, they often go out and enjoy Mughlai and Indian food.
What does the future hold? There is a plan to start a small branch in Bhubaneswar, he says. "I am scouting for a place but it is difficult and expensive." For now, business is good. And there's Swiggy, keeping them forever on their toes. Orders have shot up since the app came to town. All is well.