Ladakh, a land of mesmerizing beauty
I went to Ladakh, that rugged, desolate and yet astonishingly beautiful part of India, in the year 2005. That was the time when Ladakh (a high altitude cold desert) was a destination for those who wanted something out of the ordinary-the pure adventure junkies and the seasoned traveller.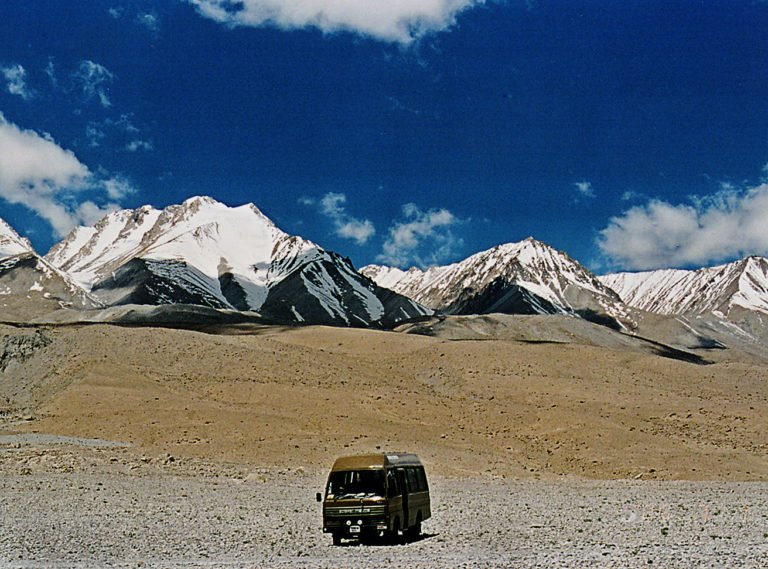 That brings us to why I am posting about my Ladakh trip 13 years too late. The reason is this. Recently a photographer friend of mine visited Ladakh. The pictures and the report he came back with were astonishing. In recent years there has been a mad scramble and rush to reach Ladakh among Indian middle class following a 2009 Bollywood movie 3 Idiots. The climax of the movie was shot next to Pangongtso, that 134 km long strip of water, that is two-thirds in China and one-third in India. From what I gathered from my friends, acquaintances and news reports, there has been a mad rush among people to get a piece of that Bollywood dream. People have been rushing basically to two destinations in Ladakh. One, Pangontso for its Bollywood connection. And two, Khardungla, that high mountain pass, which carries the tag of being the highest motorable road in the world. Some drive up and most just drop on to Leh Airport and then rush in the direction of Pangongtso, followed by Khardungla. I am told that things have changed for the worse at the ground level. Things are getting too commercial and cliched too quickly. The deserted rugged beauty of Ladakh has been overtly compromised. Dealing with garbage in tourist destination is a problem now and the delicate ecology is also threatened due to unplanned tourist-oriented growth.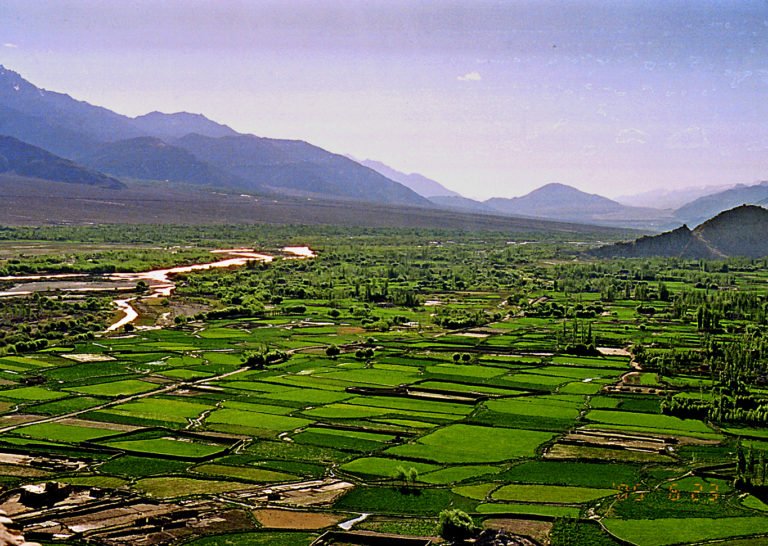 But that is how the cookie crumbles. You cannot fight change but only hope that the change is not just haphazard but involves a bit of vision and respect for the nature.
That is why I felt the need to record my visit. Also, I plan to visit Ladakh soon and experience the change first hand. I remember when we visited the point where Indus river meets the Zanskar, close to a village called Nimmu, near Leh. I and Sonia were the only two souls at that great spot. No shops, and no other tourists either. We had the whole confluence of famous mountain rivers to ourselves. Recent pictures of the spot I saw showed a whole ramshackle settlement which has mushroomed up there.
I took the 15-day long journey with Sonia, my wife, in 2005. Our well thought out decision to drive from Delhi to Leh also proved to be a major factor in making our trip a rich and memorable one.
The pictures used here were taken from a film camera with 50mm lens and not a DSLR. The pictures used here were first taken out has hard prints. These prints were then scanned to be reproduced here. As a result picture quality is not as good as desired. I exposed 14 film rolls in all during my 15 days stay trying to accomplish the daunting task of capturing the vastness of the landscape of Ladakh.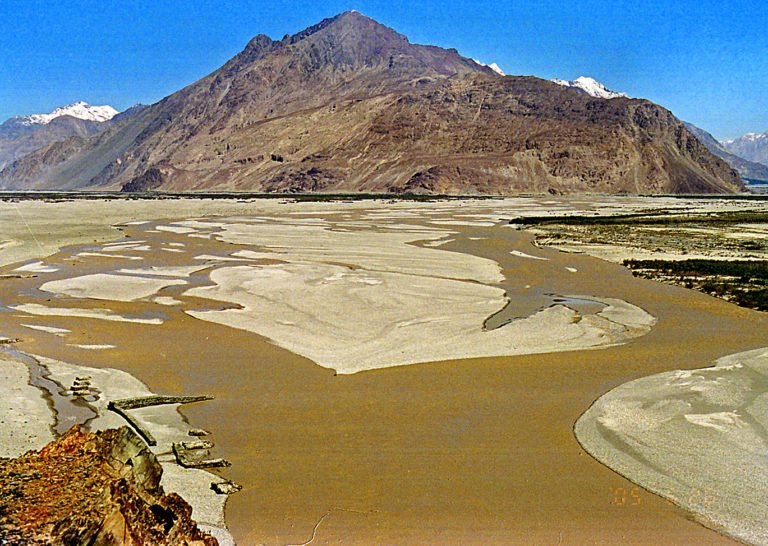 The route
We started from Delhi early morning taking the Delhi-Karnal highway. Driving through the day, our first night stop was Kullu, located just before Manali, in the Indian state of Himachal Pradesh.
We took the Manali to Leh route.
Next, we planned to drive up to Sarchu, which is a sort of campsite on a vast barren plane, with a river called Lingti flowing nearby. It is a usual night halt stop for people going to Leh from Manali. The Himachal roadways buses also take their night halt at Sarchu, which is close to Himachal and Jammu Kashmir Border. It is here for the first time you might feel some breathing difficulty due to thin high altitude air.
To reach Sarchu we started at Kullu early morning. We crossed Manali and then climbed our way to the famous Rohtang Pass, the first great mountain pass among the many we were supposed to negotiate on our journey to Leh and other destinations in Ladakh.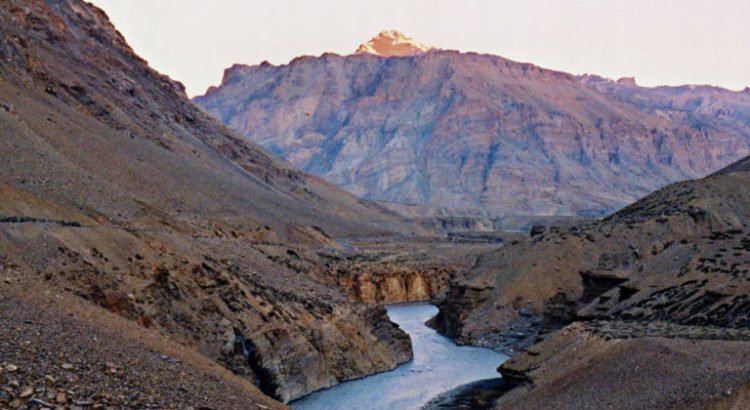 Well, our progress was blocked by a huge traffic jam at the Rohtang Pass, partly due to too many vehicles (many belonging to the army) and partly due to extremely poor road condition. We were stuck at the top of the pass, with snow cliffs all around us, for eight hours. We were bracing ourselves to brave the night in the car when the jam opened. Once over the pass, we managed to reach the closest next habitat of Keylong by 10 pm. Thankfully, we managed to get a place to stay the night, which was a very well-made and impressively located guest house of Himachal Government tourism department. Next morning we were again on our onward journey. On our route we passed Baralachala, a mountain pass totally covered with snow before we hit Sarchu. After Sarchu we also passed Taglangla, the second highest pass in the region. It was barren, bare and with little snow. On our journey, we encountered a series of astonishing mountain landscapes and a vast desolate plane with the road running straight through it, known as More Planes. It was all arrestingly beautiful. It is a world where words fall short. All you can is watch everything in silent wonderment and thank yourself for the decision you took of driving to Leh.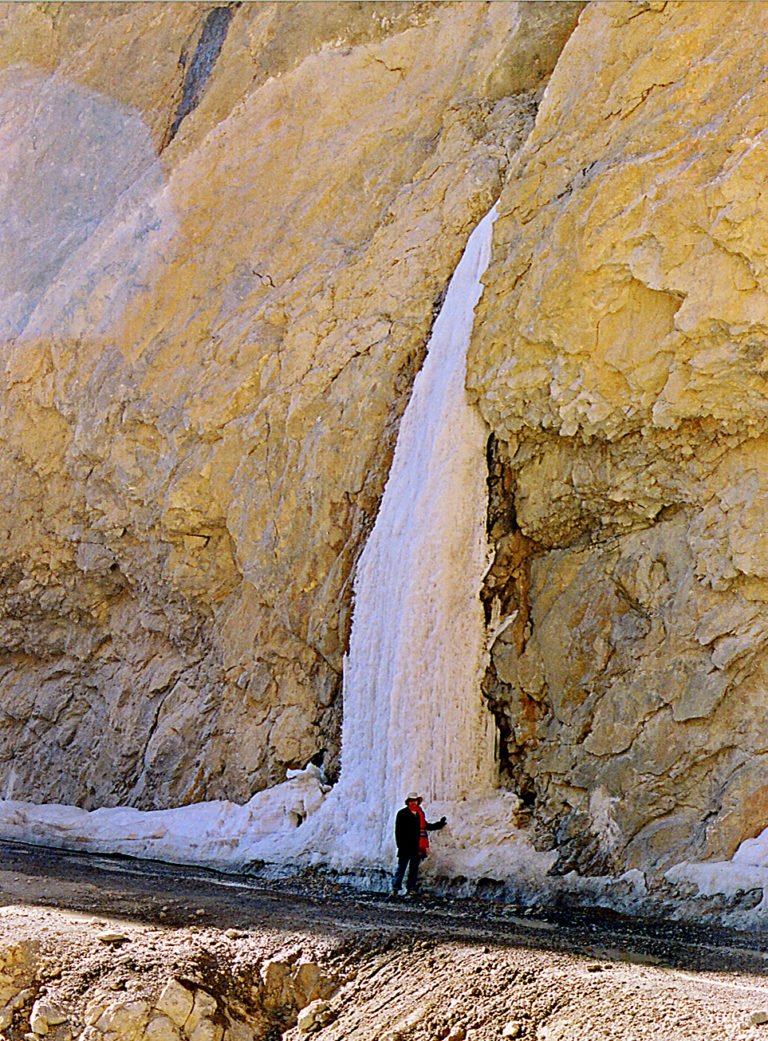 Trip to Tsomoriri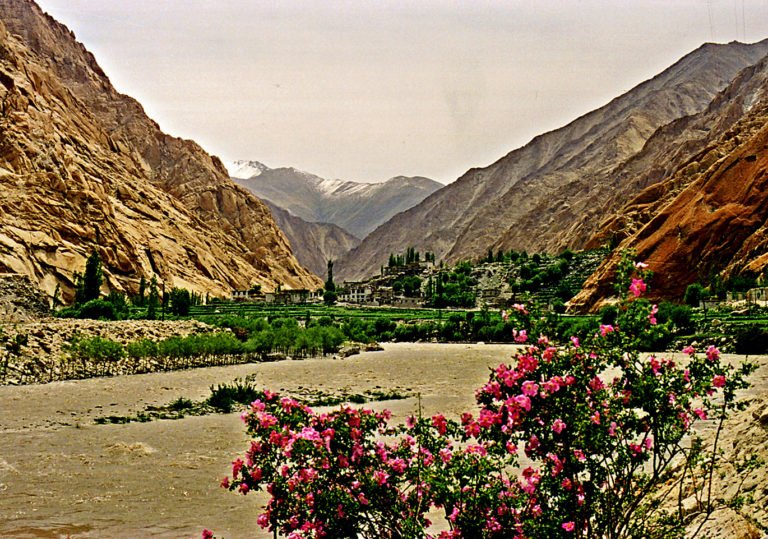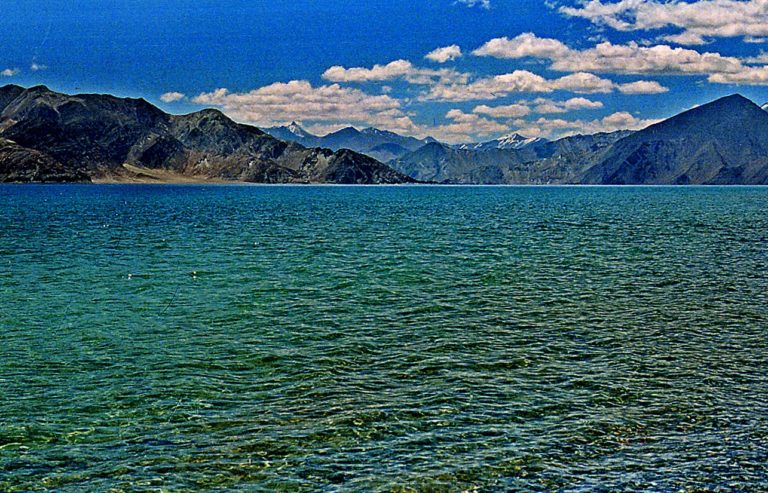 Another image from Changtang Region
Tsomoriri Lake is located at the Eastern part of Ladakh at a distance of 240 kilometres from Leh. It is 25 kilometres long and three to five kilometres wide. Located next to a village called Korzok, Tsomoriri is much less visited by tourists, even though it is much more beautiful than Pangongtso. Though it is too a brackish lake it supports a richer flora and fauna as compared Pangongtso. You might come across flocks of Bar-headed Geese or Common Coots. The lake draws much less tourist as it does not share a Bollywood connection.
On our way to Tsomoriri we also saw a smaller but equally beautiful lake called Tsokar. Most of our journey towards Tsomoriri was along the handsomely flowing Indus. Here the great river snakes its way past a dry barren and forlorn looking landscape with occasional green stretches where villages are located. The road after clinging to the side of the Indus for a good distance left the river and turned right, making its way towards Tsomoriri.
Tso Kiagar, a smaller high altitude lake on way to Tso Moriri
Tsomoriri To Pangongtso
The usual way to reach Pangongtso is from Leh crossing the Changla pass. If one wants to visit Pangong from Tsomoriri then the usual tourist way is to go back to Leh and then take the route to Pangong.
But we took a direct route from Tsomoriri to Pangongtso. This 235 km long route is through the Changtang Region. This is considered to be one of the most beautiful drives in the Ladakh region.
From Tsomoriri we joined back with the Indus river and travelled some distance along it before turning left towards Pangongtso. We encountered some amazing sights. It was all a virgin territory. There was no mark of human presence anywhere. Glaciers, fast flowing rivers, great marshlands and wide spaces as far as eyes could see. My 50mm lens was grossly incapable of capturing a vision of such huge magnitude. But I tried. Some of the images of that terrain are still etched in my mind.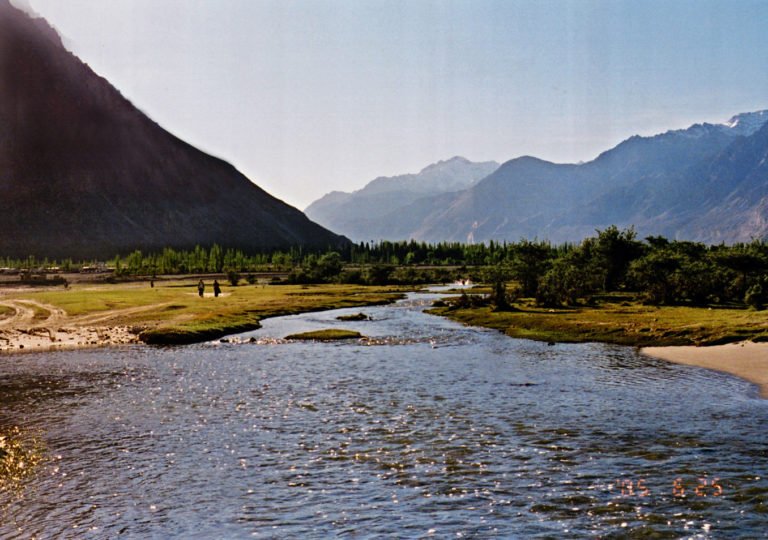 A different look of Indus on route to Pangotso from Tsomoriri Lake, Changtang Region
Beyond Khardungla
Pristine Nubra valley, Hunder
Most tourists go up to Khardungla from Leh, get their picture done with the announcement proclaiming that this is the highest motorable road in the world, and then turn back. Some nowadays go beyond to the Nubra valley. We also did that. The Nubra valley and the towns of Diskit and Hunder are open to tourist. The sand dunes of Hunder and the monastery at Diskit are very impressive. I was also struck by the high number of donkeys I saw roaming the streets of Diskit, but the most memorable sight was seeing the Shyok river spreading itself in a wide valley floor which we came across on our way to Diskit. At the time of our visit, Diskit was nothing more than a village with a few nice little places to stay. I don't know how things stand today. I am sure many more hotels must have come up there now. Which is good for the local economy. I only hope that this development is sustainable and planned and does not end up destroying the very soul of Ladakh.
Diskit monastrey, Nubra Valley holds some very interesting and important relics of the Tibetian Buddhism.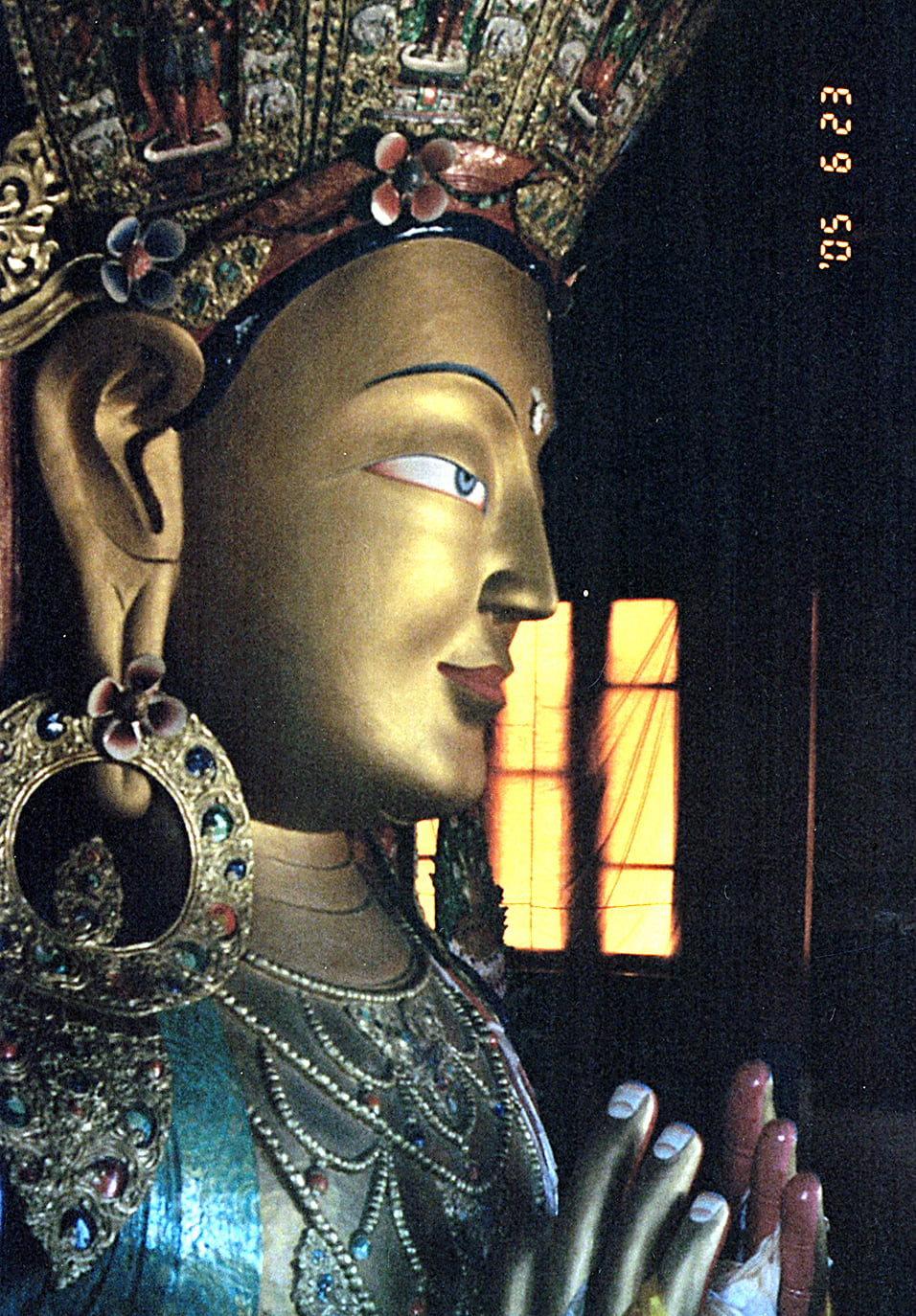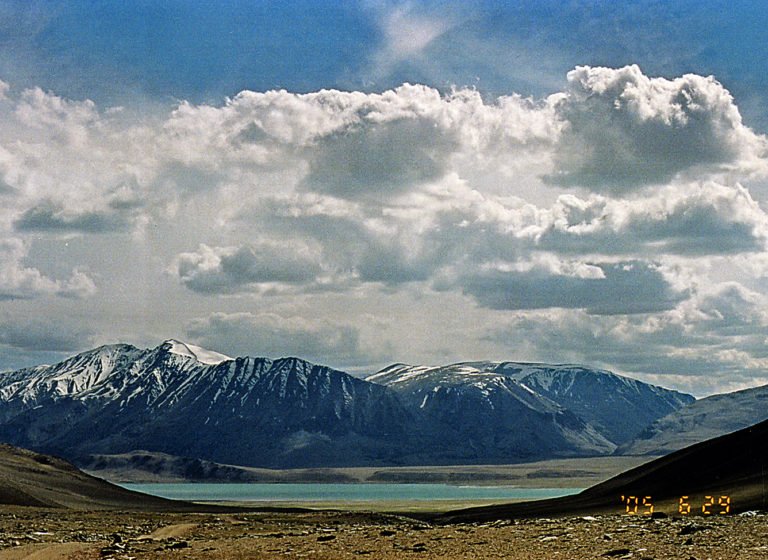 Reposted from Travel Bug Asheesh