Boats & Nets Gone, Fani-Hit Fishermen Left High And Dry
Brahmagiri (Puri): Sunamohi was in a pensive mood, watching his elderly father-in-law putting up a polythene over a bamboo structure near Satapada in Puri district, even as six other members of his family sat on a heap of debris that was once their house at Panda Pokhari, a fishermen's hamlet on the banks of Lake Chilika.
A half-constructed pucca house adjacent to their mud hut saved them from the copious rain and windstorm that Cyclone Fani unleashed on May 3. It lasted for four hours – from 8.30am to 12.30pm. "The ward member had asked us to shift to the cyclone shelter. My father-in-law cannot walk properly. So we decided to stay put," said Sunamohi.
"The pucca house belongs to my brother-in-law, who stays in Delhi. We ran inside with a few utensils and clothes and as time passed the lake in our backyard began to rise. There were snakes slithering in the water."
The family members spent that night out in the open, as they felt unsafe in the half-constructed house with a chapped roof. "We have got the polythene and are trying to prepare a small covering over our head," said Sunamohi's mother-in-law Satyabhama Behera.
The family lost all their boats, fishing nets and belongings in the cyclone. And similar is the fate of the 300 families residing in the hamlet.
Back in Satpada, which lay deserted after the storm ripped through the region, the story is no different. The boats were thrown miles away, some still stuck to trees.
According to Deba Jena of Alapatana, only 10 per cent of the boats survived the onslaught. "The fishermen had dug up sand using JCB machines and put the boats there to protect them from the strong winds. The storm surge was such that they were thrown off and completely destroyed. Heaps of broken boats was what the fishermen returned to. Some are also missing," he said.
Amiya Kumar Dalei, who works for OTDC, put the number of damaged boats to 3,000. "Around 1,400 of them were used to ferry tourists," he said, pointing at the half-broken 50-odd boats on the bank.
Fani has hit the fishermen community, residing in Alapatana, Berhampura, Balabhadrapur and Mahisa, hard.
Krutidas Dalei of Satpada Primary Mastyajibi Samanaya Samiti pegged the loss suffered by fishermen of Balabhadrapur at Rs 5 crore. "We have lost boats and nets. The machines used to propel the boats too have been damaged. We never expected a storm of this intensity. Now, we are left with almost nothing, as the houses have also been destroyed. Half of the fishermen population will find it difficult to start all over again," he said.
He said officials from the fisheries department had come to assess the damage. "They assured help for our damaged boats, but said nothing about the nets," he said.
Describing the nature's fury, Yatrinivas manager Braja Mohan Kar pointed at a mangled ceiling fan and broken glasses of the government guesthouse. "All five government boats were also damaged," he said.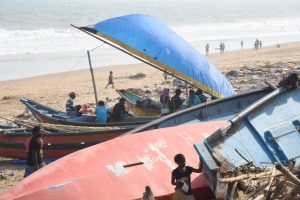 Sources in the fisheries and animal resources department said 6,300 boats and 7,240 nets were damaged in the severe cyclonic storm. Penthakata in Puri was the worst-hit with loss estimated at 70 per cent.
Similarly, 65.92 hectare of fish pond and 0.5 hectares of fish seed pond have been damaged, the sources said.
The Odisha government has announced financial assistance of Rs 12,000 per hectare to fish farmers.
However, there has been no official announcement regarding compensation for boats and nets.
According to Chilika Development Authority's official website, Chilika lake has 132 fishing villages with a total population of over 0.15 million, not including the surrounding area which has about 273 villages. About 30% (46,500) of the fishing village population are active fishermen, although many others depend indirectly on fisheries.
Pictures Courtesy: Arabinda Mahapatra