Bhawanipatana: Over two lakh devotees flocked to the Maa Manikeswari shrine in town to witness the deity's traditional entry into the temple on Sunday.
Known as 'Chattar Jatra', the annual journey symbolises Maa's return from Jenakhal to the main temple. It's held at the exact time when Asthami ends and Navami begins.
Tribal Tradition
Unique to the Kandh tribe-dominated Kalahandi, Maa Manikeswari is considered to be a blend of the tribal and non-tribal cultures of Odisha. And this is amply reflected in the celebration of Chhatar Jatra.
Earlier, both the Royal family and tribals participated in the rituals and made offerings to the goddess. Now, local people and government bodies host the festival together.
During Chhatar Jatra, groups of people dressed as traditional Kandha tribal warriors and demons participate in the procession. Then there are groups that play Ghanta and other play traditional instruments like 'dhola' and 'nishan' among others to showcase the area's rich tradition.
Delhi-based IT professional Purnendu Tripathy, who used to visit his native town every year to be part of this festival, said, "More number of local people are interested to dress as tribal warriors to showcase the tribal tradition and attires. They are the real celebrities of the day. This also gives the new generation a different perspective towards the festival."
New Trends
This year 42 Ghanta groups participated in Chhatar Jatra, according to district BJD youth president Aditya Nanda. "Earlier, only one musical instrument called 'Dum Baza' from the royal family accompanied the deity's procession. But since the past few years, new instruments and things have been introduced," he added.
An established folk festival in its native land, Chhatar Jatra of Maa Manikeswari has also gained popularity in neighbouring areas of Chhattisgarh.
"A very interesting fact related to this festival is that a few pigeons will be invariably sitting on the top of the Chhatar, unmindful of the loud noise and crowd," Anamika Sathapathy, a local, shared.
'Headless' Deity
But perhaps the most unique ritual associated with Maa Manikeswari is the replacement of the deity's head with a new one on Durga Asthami. It is a 'gupta niti' (secret ritual) known as Munda Basa, which is derived from two words munda (head) and basa (to place).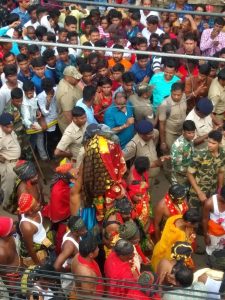 As per tradition, the head of the Devi is removed at midnight and replaced by a terracotta head studded with gems and ornaments. The old head is then immersed in the Purushottam tank adjacent to the temple.
This placing of the terracotta head may seem surprising. But it may be noted that Maa Manikeswari is headless and hence identified with Devi Durga's Chhinnamastha avatar. Her body is like a cylindrical structure, over which a clay head is fixed. Thereafter, the body is covered with clothes and ornaments. After Nava Kalebara, Maa returns to her temple on Navami tithi, marked as Chhatar Jatra.