Bhubaneswar: Normalising chaos is not good in the long run, Twin City Police Commissioner Sudhanshu Sarangi said about efforts to bring in orderliness in the Odisha capital after taking charge last month.
Speaking to Odisha Bytes, he laid out his vision for a systemic approach and people participation to solve the traffic mess that plagues the Smart City. Excerpts:
Strict Enforcement
People should be aware of traffic rules, which need to be strictly enforced. We have prioritised some roads to bring semblance of order and hopefully some behaviourial change. This, we believe, will have a cascading effect on other areas. To begin with, our focus is on the highways, Janpath, Rajpath and the road towards Chandrashekharpur,
which has become virtually unmanageable.  We are not promising an overnight change since our resources are limited, but in the next one month there should be some modicum of law and order on these roads.
(For the first time, drone cameras are being used in the city for checking traffic violations to ease vehicular congestion in one of the busiest stretches – Airport Square and the State Assembly)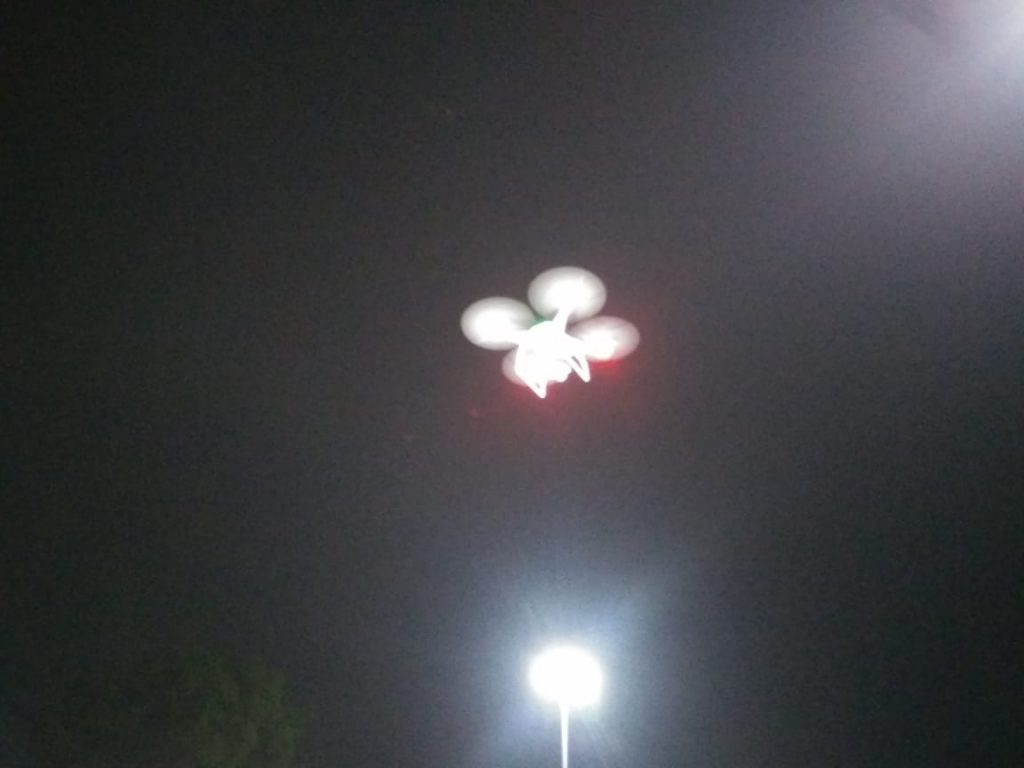 Better Traffic Sense
There is very high degree of violations, and we have to bring it to a level where minor irritants can be ignored. It is a lovely city and the denizens should be allowed a more orderly experience. Do you think people are not aware that triple riding and riding without helmet is illegal? There is a general lack of traffic sense and an unwillingness to walk. They want to drive right up to the shop even in the busiest of squares. These are areas where we have started initial law enforcement. We have not gone into areas where a vehicle is parked on the road but is not obstructing traffic flow. We are looking at glaring and exceptional cases, which need immediate action.
Take for instance the road between Bhubaneswar and Cuttack, the speed limit in any developed country should have been 120km/h to 140 km/h. But we have to reduce it to 40 km/h to 60km/h in view of high number of accidents and road fatalities. Going forward, we have to create a better traffic sense. We need to have stricter norms for driving
licences.
Lane Driving
There is a need for lane driving because we feel two-wheeler drivers have particularly become very negligent. They are veering into any space they find. At red lights, if there is space between two cars, they will enter and zoom ahead. Naturally, it is causing frustration
among car owners. People also do not understand lane markings. If there is a lane, they have to drive in the lane and not cut lane or drive overlapping two lanes, either you stick to the right or the left lane.
Buses too never stick to the designated lanes. Around 600 buses leave Baramunda and pass though CRP Square, Acharya Vihar, Vani Vihar and Rasulgarh. The drivers park the buses on the road to pick passengers and when another bus tries to overtake, the entire road is blocked. We have asked them to stick to the bus lane, allowing space for traffic
movement.
Lane Markings
We want all lanes to be marked. We have requested the municipal authorities, National Highways Authority of India and Works Department for double white marks to indicate no parking from 7 am to 10 pm and white and yellow marks specifying a complete no to parking for 24 hours. We will do those lane markings.
Parking Issues
On major roads, especially in Saheed Nagar and Bapuji Nagar, vehicles can be seen parked on the road. We need to see where we can park without hampering traffic movement. Similar problem exists near commercial establishments like shopping malls, mandaps, eateries and busy markets. We expect them to share responsibilities with us. They can deploy a person to ensure vehicles are parked in an orderly manner.
We are looking at ways to partner with commercial establishments, bazaar committees and housing societies and work together towards an orderly city.
Since one of our representatives is part of the Bhubaneswar Development Authority's building approval committee, we would expect our input on traffic to be considered when major building plans are approved. We can do little once they come up without the required
parking space.
(To tighten the noose around those violating vehicle parking rules, wheel jammers are being used and Rs 500 imposed as fine)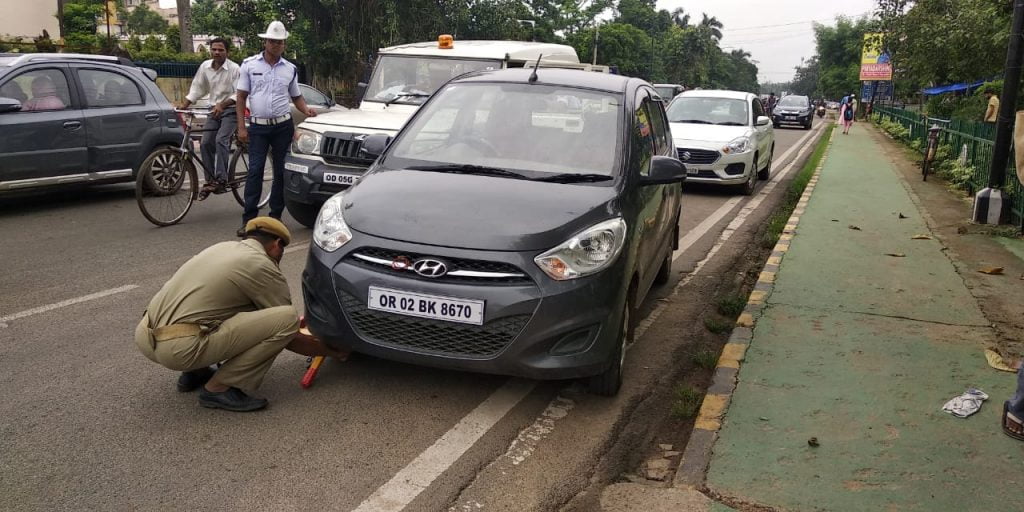 However, Commissionerate Police has been facing resentment and public outrage following implementation of new traffic norms under the amended Motor Vehicle Act on September 1. Saturday saw police resorting to lathi-charge to disperse a mob near Raj Mahal Square
after trouble erupted during checking of vehicles by road transport officials.
Sarangi was seen at the spot pacifying people, who accused police of collecting hefty fines from the public while letting off government vehicles. He explained that penalty was imposed on five accounts – if a person was found driving under the influence of alcohol, riding a two-wheeler without a helmet, carrying more than one pillion rider, entering from the wrong side and using mobile phone while driving.