This is one of those days when there can be no equals. So don't you dare ask if it is raining in Manchester. No,  not today.  It shouldn't.  It can't.  For it is just not cricket if it rains today of all days in what is like half-time for traditional rivals,  India and Pakistan.
It is raining in Cuttack. So what?  There is a power cut.  So what? The match is still some time later in the day. Preparations began here last night itself when a pole began swaying dangerously and then bending. "They had barely straightened it soon after Cyclone Fani," said Santabrata Behera,  who runs a makeshift soft drinks stall right in front of the pole at Tinkonia Bagicha. "My dad called the electric department right away.  Two men arrived with ropes."
"We can at best turn on power. But to straighten the pole and ensure it doesn't succumb to winds any time soon, we'll need manpower," the electrician said.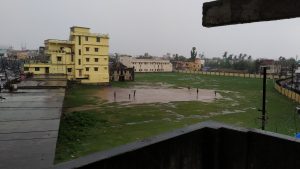 "Manpower? Is that all? In no time some 40-50 people turned up. Heave ho,  heave ho and the swaying pole was standing to attention, ready to weather any wind,  whichever way it blows,  so long as the best team wins today," said Ishtiaque Taher, who was all geared up for the big match today.
The rope was pulled right into the compound of the adjoining Peary Mohan Academy School. How long will it remain this way? Well, so long as it makes good cricket sense,  all's well that ends well!