Bhubaneswar: Continuing with the discovery of Odia traditions while hopping monuments and temples of Kalingan architecture with a distinct signature of regional style, 30 visitors of the 43rd Ekamra Walks, the only guided heritage tour of the city, on Sunday were introduced to the rituals and practices of 'Habisialis' or people observing 'Habish' during the holy month of Kartik in the Old Town area.
While visiting monuments starting from the 10th Century Mukteswar Temple with its unique arch as the epitome of Kalingan temple building marvels, the walkers also encountered the pilgrims arriving in the Old Town area following the onset of auspicious Kartik month. People, especially elderly women observe the month with simple food and rice, which is traditionally called as 'Habisha Anna' or rice, and spend time in religious discussions, discourse and reading religious texts.
As the visitors proceeded and came to Dudhwala Dharamshala, they came across 'Habisialis' and people on temple 'Darshan' tour from neighbouring West Bengal, Bihar, Jharkhand, Chhattisgarh and Madhya Pradesh, among others. Buses from faraway states like Gujarat, Rajasthan and Uttar Pradesh have also started reaching the famous Shiva abode of the Eastern India, which was once known as Ekamra Kshetra.
Apupa Rath, a lawyer from Orissa High Court, who came from Cuttack with her friend said "Though I am from the Millennium City, this was my first visit as a tourist to the Old Town area of Bhubaneswar. I feel proud of the beautiful monuments here that display our rich architecture acumen. I will definitely request more friends from my circle and fraternity to join Ekamra Walks and re-discover Bhubaneswar.''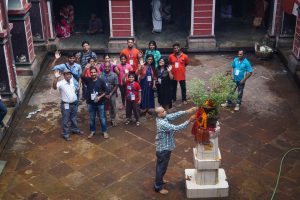 Swostiprava Beura, Apupa's friend and software engineer from Bengaluru, was pleasantly surprised to see the beautiful monuments. "Though I am a native of Cuttack, this was my first experience with so many well-preserved historical structures and I am really lucky to have come for the walk,'' she said.
K. Shiba Prasad, an employee of Steel Authority of India (SAIL) and associated with its mines in Barbil area, found the heritage package interesting. "Though I am staying at Barbil, I am from Baramunda, but I had to wait for such a long time to come here,'' he said.
Sarat Mallik, an employee with ICICI Bank at Sriya Square her, came with his chidlren Nitushree (8) and Swayam (5). The two kids of Dumduma teamed up with Rudra from Old Town area and a regular at Ekamra Walks and all the three had a nice time together. They asked many interesting questions while visiting Ekamra Van, the medicinal plant garden on the western bank of Bindusagar Lake.
Among others, Additional Commissioner of Bhubaneswar Municipal Corporation Alok Kumar Kar joined the weekend heritage walk and also interacted with some visitors. Senior forest official Ashok Mishra briefed the visitors on the importance of Ekamra Van and the legends associated with Ekamra Kshetra and Bindusagar.