Will Cuttack Silver Filigree Craft Become The 18th Odisha Product With GI Tag?
Bhubaneswar: Cuttack Silver Filigree (Chandi Tarakasi) is in line for joining the list of ethnic products and produces from the state protected under the Geographical Indications (GI) tag.
Odisha State Co-operative Handicrafts Corporation Ltd has submitted an application seeking a GI tag for this unique silver craft being practised in the Millenium City.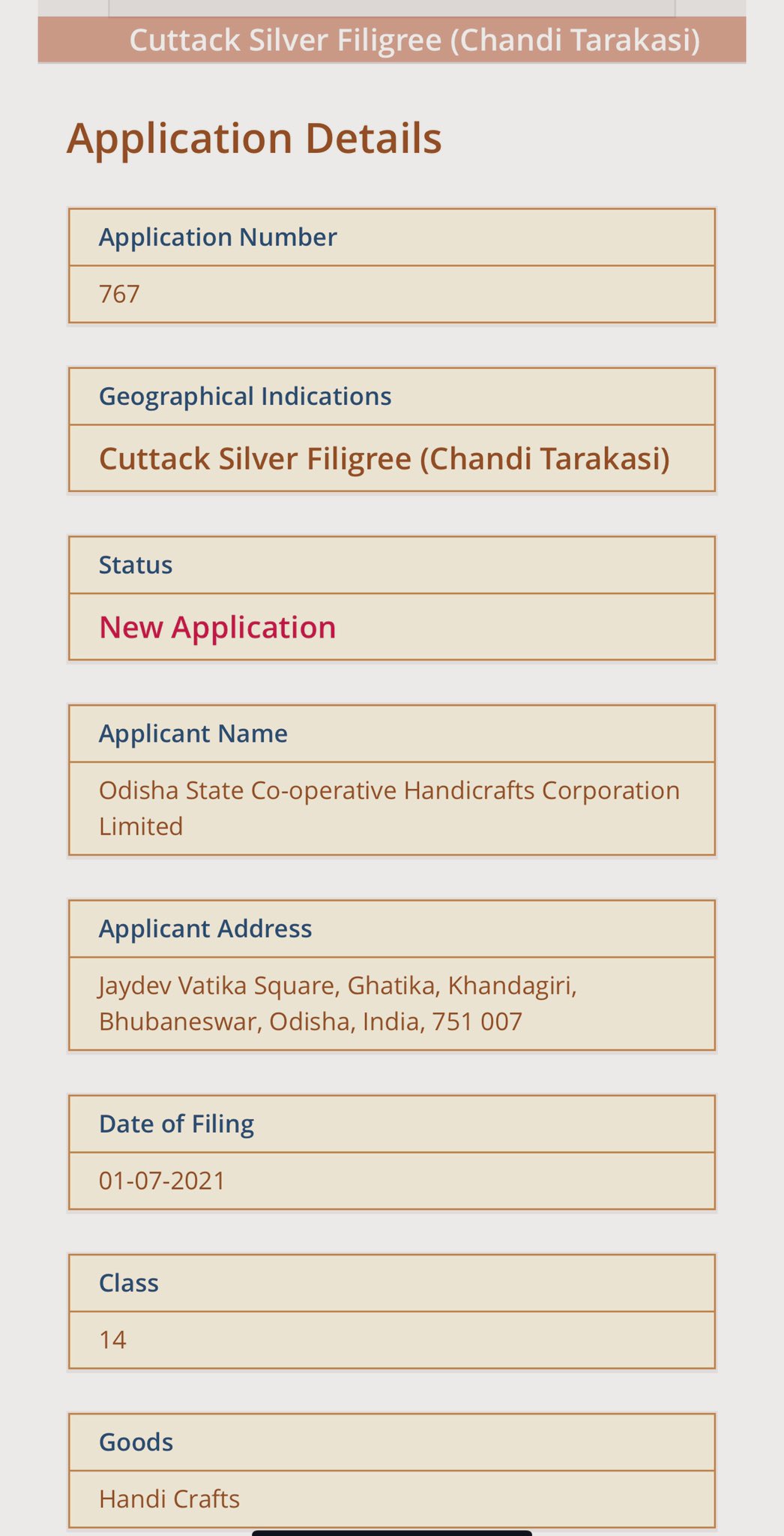 "Filigree has been traditionally associated with fine craftsmanship and luxurious design in classical jewellery. Silver bricks are transformed into thin fine wires or foils and used to create jewellery or show-pieces," Intellectual Property Rights (IPR) attorney and advocate P Sanjai Gandhi, who has filed it on behalf of the Odisha government, told the media.
He is the Nodal Officer, Geographical Indication Registration of Products, Government of Tamil Nadu.
The applicants pointed out that silver filigree as a craft has been linked to Cuttack as far back as the reign of Anangabhimadeva III in the early 13th Century.
"Though there is no clear proof of origin of the craft, experts attribute it to the influence from Persians, Indonesians, Mughals and even the Greeks. The art had received considerable patronage under the Mughals," said Gandhi.
In Cuttack, the work is generally done by boys, whose sensitive fingers, and keener sight enable them to put the fine silver threads together with the necessary rapidity and accuracy, he said.
Elaborating on jewellery making, Gandhi said that the core process of the craft has remained the same over the centuries except for a few changes in tools and components. Silver, copper, zinc, cadmium and tin are used in a specific ratio to add strength, reduce the melting point of the alloy and increase durability.
Filigree or Cuttack Tarakasi work is known for its delicate artistry and brilliant craftsmanship. Hundreds of households in Cuttack are engaged in making this kind of silver jewellery with beaten silver drawn into fine wires and foils. During Durga Puja in Odisha, Tarakasi jewellery is used at many pandals to embellish the idols. Odissi dancers also don them.
These are used for home décor and as cultural pieces.
Gandhi said that the mixture of products had given the Cuttack cluster an edge over others.
"A GI tag for silver filigree will act as a universal mark to establish the presence of the craft at the national and international level," he added.
Pipli Applique, Konark stone sculpture, Pattachitra of Puri and Orissan ikat have received the GI tag. If silver filigree gets one, it will become the 18th product from Odisha protected under GI.
Gajapati Palm Jaggery is also awaiting the nod.
Also Read: GI Tag: 'Rasagola' and 16 Other Products Exclusive To Odisha