Bhubaneswar: At a time when self-styled godmen and godwomen are sitting on high pedestals and misguiding naïve people in the name of religion and raking in the moolah in the process, the Gandhi Mandir in Odisha's Sambalpur district stands out as a symbol of religious sanity and secularism, the foundation on which our nation was built. The presiding deity here is Mahatma Gandhi and the priest, a dalit. Among the worshippers could be anyone – John, Abdul, Amarjit or Bhagwan Das.
Situated at Bhatra, a Harijan suburb in Sambalpur, about 300 km from the Odisha state capital, this is the only temple of its kind in the country. There is a 3.5-foot-tall bronze 'idol' of the Father of the Nation in a squatting position inside the garvagruha (sanctum sanctorum) of the temple. The entrance has Ashoka Stambha, the national emblem, symbolic of peace and goodwill.
There are no religious sermons here. Instead the teachings and writings of Gandhiji are read out to the congregation. The priest says that some devotees begin their day by partaking prasad at this temple and end it by visiting it in the evening.
The temple was the initiative of Abhimanyu Kumar, father of Pramod Ranjan Kumar, current president of the Gandhi Mandir Development Committee. It was inaugurated in 1974 by the then chief minister of Odisha (then Orissa), Nandini Satpathy.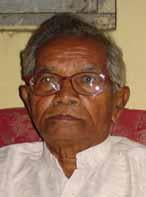 A staunch Gandhian, Abhimanyu Kumar, who was Congress MLA for 18 years, had witnessed the caste and class divide first hand as also the atrocities committed by upper caste Hindus on the lower caste. With memories of being denied entry into temples in his childhood, Abhimanyu Kumar decided to make a temple in the memory of the "man who abolished untouchability", when he became MLA in 1971.
Bapu was no less than God for him, so he had no qualms about elevating the "prophet of peace and non-violence", as he called him, to that exalted position. Abhimanyu Kumar deliberately chose Bhatra as the mandir's location since it is inhabited by a number of lower caste Hindus.
"Daily rituals apart, we organize major functions on Republic Day, Saheed Diwas, Independence Day and Gandhi Jayanti every year," says Pramod Ranjan Kumar.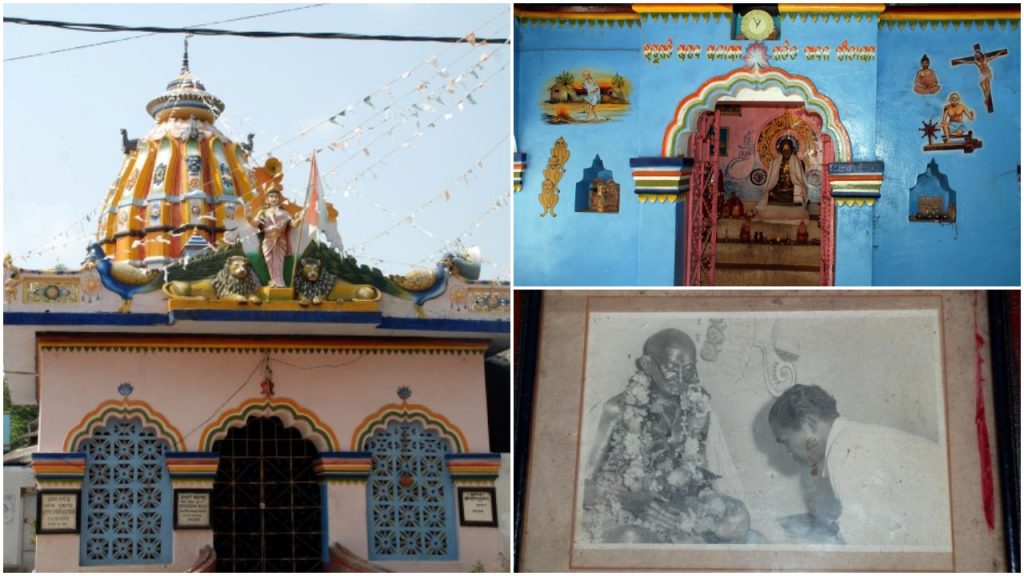 Lack of funds has been a stumbling block in the expansion of the activities of the temple for the past several years. In the absence of government support, the temple's affairs are managed with the contributions of its 150 members. They organise health camps, cleanliness drives, symposia etc. as and when budget permits and there are donations.
"There is a lesson to learn from the Gandhi Mandir. It preaches and practices equality and tolerance, which is of paramount importance in contemporary times when different faiths are at loggerheads," says Richard Chen, a Christian of Chinese origin who has made Sambalpur his home. "I have visited the temple on several occasions. Every time I go there I experience a thrill while looking at Gandhiji's statue. It is genuinely a centre of peace and communal harmony," says Kadir, a resident of Sambalpur.
Although there has been no voice of dissent about the existence of such a temple, the question whether it is right to install the statute of a statesman in a temple has certainly been asked. "What's wrong with it?" asks a social worker. "Gandhiji is like god to many Indians. It is better to keep his statue in a mandir than in the open, where it could be vandalised. Inside the mandir, its sanctity is maintained and people come and pay their respects," says and elderly citizen.
In a star-struck nation such as ours, which is so easily guided by emotions, if we can have temples dedicated to living film stars (e.g. Amitabh Bachchan and Rajnikanth) for providing us entertainment, why can't we have one for an apostle of peace like Mahatama Gandhi, who showed us the correct path of establishing an inclusive society?