Know What It Takes To Win National Skills Competition From Some Odisha Winners
Bhubaneswar: In 2019, when one of his seniors at Ranjita Institute of Hotel Management under CV Raman Global University won a gold medal at World Skills Competition, Subrat Patel of Sundargarh district in Odisha had his eyes set on the target.
The hotel management graduate wanted to bring a medal for the country as well by showcasing the best of his skills at the World Skills Competition. And, he is on his way to living his dream. After winning a gold medal at the National Skills Competition this year, he is all set to represent India at the World Skills Competition in the restaurant service category.
At the national level contest, Subrat had to prove his skills at spirit testing, fruit and chicken carving, among other things. "You are required to identify the spirit by smelling it only. For fruit carving, I made the tricolour using pineapple, kiwi, mandarin and strawberries. We were not allowed to touch the fruits with bare hands. Rather, we had to make the shapes using spoons, forks and knives only. The rule was the same for chicken carving as well," he said.
Subrat will take up rigorous training to give his best shot at the World Skills Competition, to be held in Shanghai, China in October 2022.
But, how did Subrat step into the hospitality and food sector? "I wanted to join the defence services. But, I was rejected as I didn't have the perfect body. Thus, I focused on my passion for cooking," he said.
Like Subrat, J. Lavanya, a student of B.Sc Microbiology, won a gold medal in health and social care at the National Skills Competition. "Every competitor in the social and health sector had to rotate within three zones namely hospital, homecare and daycare during the three days of the competition and continue the same until all zones are covered respectively. We were given a test project, consisting of a set of modules that had to be completed at a particular zone by the competitor on a specific day of the competition from morning to evening. The total time for completing the assigned tasks was 2 to 3 hours per day per zone," explained the Centurion University student.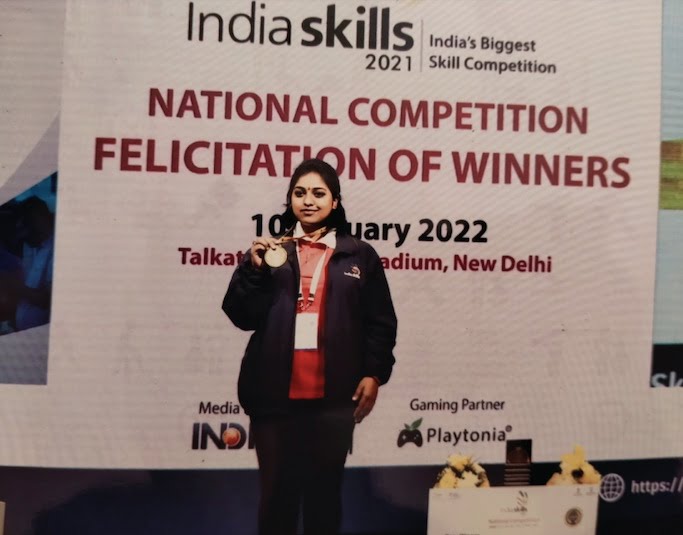 She attributed her success to mentor and state-of-art infrastructure facilities at the School of Paramedics.
Similarly, being trained in the best CNC machines under the supervision of a qualified mentor, Satya Ranjan Mohanty of the university, won a gold medal in CNC Turning. A state-of-art infrastructure of woodworks with best-in-class trainers led Hritik Pata to bag a bronze medal at the competition.