Bhubaneswar: Pakhala Dibas on March 20 every year heralds the onset of summer in Odisha. The reason for the choice of the date is that the equinox occurs on that day. Another reason is to popularise Odia food. Pakhala Dibas is celebrated by Odias worldwide.
Odisha's staple food will start appearing on the menu both at home and in luxury hotels, roadside dhabas and restaurants.
Not many people know about the Kansa Bela (metal container) in which Pakhala is served and consumed. Sudarshan Sahoo, who retired Deputy General Manager from Central Bank of India in 2014 is an authority on the Belas and has been collecting Pakhala Kansa Belas since the last 30 years.
"I hail from an artisan family. Basically they are Kansari, who used to make bell metal utensils. My native place is Kantilo in Nayagarh district.  My father Gopinath Sahoo is a master craftsman of Bela and Thali," said Sudarshan.
In fact Sudarshan has a museum, 'Gopinath Heritage Museum of Brass and Bell Metal Crafts,' where he has some 24 varieties of Kansa Pakhala Belas.
"I set up Gopinath Heritage Museum of Brass and Bell Metal Craft and Gopinath Metal Research Foundation in the memory of my father," he said.
The museum and the foundation are situated at Jagamohan Nagar in Jagamara here.
His collection of Belas include, Kundi Pakhala Kansa Bela, Baithi, Hati Pahulia, Chhatifulania, Sahari Babu Pakhala Bela, Baleseri, Antabhanga, Fasa, Manda, Matiakela, Pocha, Oukhama, Rekabi, Rakama, Tabhafalia, Rama Sai, Lahari, Dohari Rekabi, Mana, Gola, Dudurafulia Matu and Torani and all of them have a history.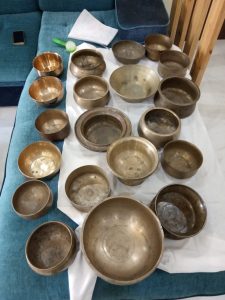 The History
Kansa Bela dates back to a thousand years. "Dahi Pakhala (curd rice) being offered to Lord Jagannath since time immemorial. It is among the 'Chhapan Bhog' (56 Bhogas). In the 'Bada Singhara' Vesha ritual, Dahi Pakhala is offered because by eating Dahi Pakhala, we feel relaxed. That is why it is offered to Lord Jaganath for a better sleep at night. Since Pakhala is that old, Kansa Bela also has to be," he added.
Kantilo is an important place for making Kansa utensils. Sadhabas (merchants) used to take Kansa Bela from Kantilo.
Kantilo is situated on the Mahanadi river bank. In Kantilo, Sadhabas used to take three types of Belas – Baleseri, Oukhama and Rekabi. They are very costly Belas. Only the elite class can afford them, said Sudarshan.
As per tradition, eating Pakhala is prohibited till Dola Purnima.
"We eat Pakhala after Dola Purnima because mango is offered to Dola Gobinda or Lord Krishna. Small pieces of mango are used in Pakhala. We cannot eat mango before offering it to God. Thus it has a strong relevance with the mango," said Sudarshan.
Kansa Belas are used in south, western Odisha and coastal Odisha.
Among the above 24 varieties, eight varieties are from western Odisha, eight to 10 from south Odisha, and four to five are from coastal part of Odisha.
Ramasai Bela
Farmers usually use Ramasai Bela. It originates from Katapali in Baragarh district and is a light weight Bela. People mostly use this Bela in western Odisha. Farmers' wives take Pakhala in this Bela to the farmland in afternoon for their husbands.
Duduraphulia Bela
It looks like a Dudura flower or a funnel and is big in size. At least five litres of water rice can be kept in this Bela. Four or five people can eat from it.
Pocha
It is a heavy weight Bela, about four to five kg. In it you can have more rice and less water.
Those of lesser weight are Ramsai Bela, Rekabi Bela and Balesari Bela.
'Sahari Babu Kansa Pakhala Bela' has been made by Sudarshan. "It has a handle to hold," he said. It is a light weight Bela.
He claims that he has the biggest Bela in the world, Gola Bela. Around seven litres of rice water and rice can be kept in it.
Rekabi Bela is not used for dining. It is generally used for donating rice, dal and vegetables to priest and guests.
"I have collected all these Belas  from Kansari villages like Balakati, Kantilo, Bhainchuan, Remuna, Bhuban, Kunda Patana of Jajpur, Mamudiha from Ganjam, Mathura of Ganjam, Gunapur and Padmapur from Rayagada, Katapali from Baragarh and Barapali from Sambalpur and Balangir district," said Sudarshan.
Health Tips:
Eating in Kansa Bela keeps diabetes, gastritis, allergy and the growth of cancer cells in the body at bay, said Sudharshan.
"My wife initially did not support this passion of mine. She used to complain as I spent my salary and pension o buying them. After seeing the museum, she started supporting me," said Sudarshan.
"Besides Belas, we have other collections too. Maintaining them is difficult. People are slowly forgetting the tradition and therefore, it is all the more important to preserve them," said his wife Jyotsnarani Sahoo.